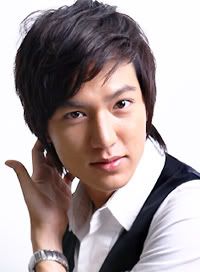 PROFIL
* Name: 이민호 / Lee Min Ho
* Profession: Actor
* Birthdate: 1987-Jun-22
* Height: 185cm
* Star sign: Cancer
* Blood type: A
TV SERIES
* Boys Before Flowers as Go Jun Pyo (KBS2, 2008)
* But I Don't Know too (나도 잘 모르지만) as Min Wook Gi (MBC, 2008)
* I'm Sam as Heo Mo Se (KBS2, 2007)
* Mackerel Run (달려라 고등어) as Cha Gong Chan (SBS, 2007)
* Secret Campus (비밀의 교정) as Park Doo Hyun (EBS, 2006)
* Love Hymn (MBC, 2005)
MOVIES
* Our School E.T (2008)
* Public Enemy Returns (2008)
* Humming (2007)
* Arang (2006)
* Ghost Lives (2004)
* Repechage (1997)
Lee Min Ho (Korean: 이민호) is a South Korean actor who is best known for his leading role as the leader of F4, Goo Jun Pyo, in the Korean adaptation of the popular manga series, Hana Yori Dango, titled Boys Over Flowers, in 2009. He started his career in 2006 since then has been cast in various TV shows, short dramas and minor movie
Filmography
RECOGNITIONS
The 45th Baeksang Arts Awards: Best New Actor Boys Before Flowers (2009)
Min Ho is especially beautiful when young. His eyes were bigger than his elder sister, his nose was high as well. The earliest signs showing his talent of being an actor was during young, due of his eloquence. Although his sister is fluent in her speech, Min Ho had learned to talk much earlier. When he was still in his infancy stage, he could quickly detect moving objects. The very first time he called "mom" was also about 3 to 4 months faster than an average child.
One year old birthday
Min Ho loved to read the newspaper. He first started learning Hangul from the colourful advertisements printed on the newspapers.
Min Ho who was enthusiastic towards reading newspaper, cultivated a habit to read the commentary articles on the children newspaper and daily papers when he entered elementary school. He could do addition and subtraction very fast and had a very good memory. Even the multiplication table and Hanja didn't trouble him at all.
After learning Taekwondo, his body became muscular. Nobody in the school dared to pick a fight with him. Min Ho once harbor the aim to be a famous soccer player. He had played four years of soccer under coach Cha Bum Kun's Youth soccer team. With this as a basis, Min Ho who was previously weaker gradually became a sports athlete. He also met a lot of new friends, which eventually shaped his positive attitude personality.